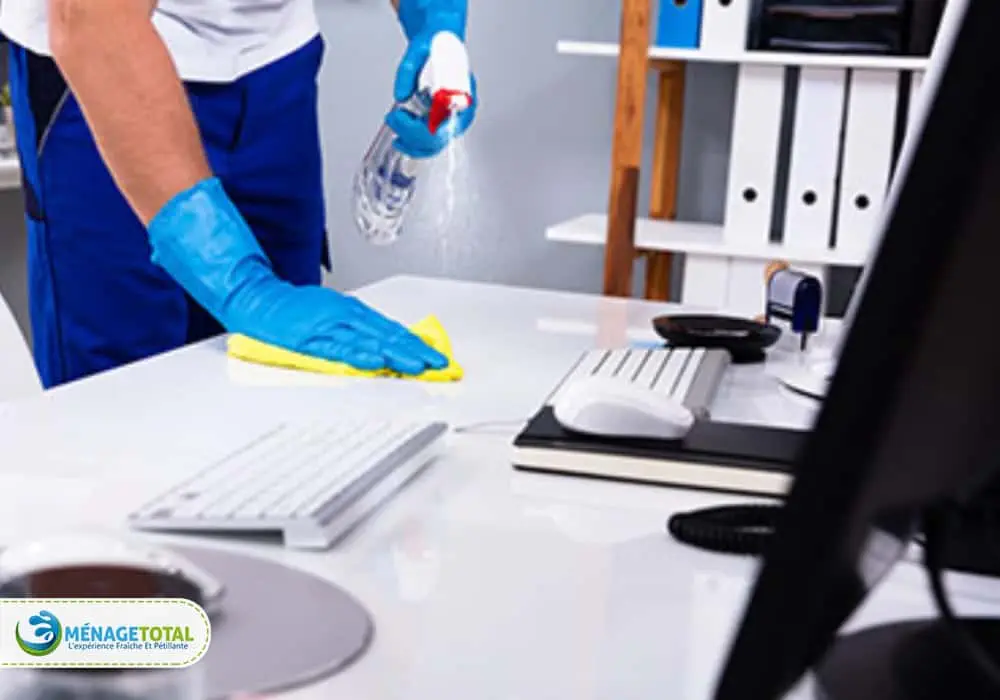 Every organization wants to develop its sound working environment, peaceful workplace, and an excellent working place. Cleanliness and sanitation conditions play an essential role in the working environment everywhere in the world. When you pay for cleaning services, you want that level of quality services for which you have paid. Menage Total is the Professional Cleaning Company in Montreal, Laval, and Longueuil which surpasses your expectations. We guide you in office cleaning; you can get a professional level of cleaning quality by getting in touch with Menage Total. We tell you the essential 15 office cleaning tips and tricks which will make your cleaning work so easy. Here are the tips;
Perform the routine dusting
Regular and a daily dusting of surfaces reduces the burden of work and weekend or on monthly cleaning work. Here is the first tip in 15 office cleaning tips and tricks. Wipe off the dust accumulation daily to avoid dust spots and stains.
Focus on your floors
You should not ignore the floor cleaning as there are vast chances of dust buildup, grime and getting slippery. If you have concrete or slate floor, you should get it waxed and wash it on weekly or twice a week.
Carpet disinfection
Most of the offices have carpets cleaning on their floors, and colossal foot traffic comes on its surface. It gets saturated with containments and dust particles. Dirt is very harmful to the threads of carpet; it cuts it like blades. Moreover, it harms the colour and quality, and Menage Total suggests you vacuum it regularly. Get it to wash thoroughly every month.
Hard to reach areas cleaning
Here is another crucial tip from 15 office cleaning tips and tricks, to not avoid the hard to reach areas cleaning. When you get a routine cleaning, the cleaners may neglect these areas. Over time, the dust gathers over there and makes stubborn spots which later become almost impossible to remove. Not to mention, it is very crucial to keep the quality of your space at a high level; you should clean these areas as well.
Floor repairing waxing and stripping
When you clean your office floor, you should be careful if you find any cracks, chips and defects and grout. It would be best if you repaired it, and it is essential to keep the floor quality sound. Keep it shining play an indispensable role in the overall clean image of your space.
Mop the floor to get rid of dust spots
Mopping is one of the routine works in cleaning an office. Before starting mopping, you should make a solution of baking powder and vinegar. If you want to get the instant and fast result, you can add lemon juice in it. Lemon juice is beneficial in removing grime buildup from all types of surfaces. Dam the mop and apply it on the floor repeat this process again if you find any dust spot there.
Organize the table and paperwork
Moving toward table organizing work, you should make sure that you have picked all the objects and essential papers from the table. Remove the dust and dirt accumulation from the table. Clean the computer and other electronic devices. When you have completed the surface cleaning, wipe off the dust from beneath the table. Remove any accumulation under the table and make the floor spots free.
Furniture cleaning
One of the significant investments in every office is furniture, and it needs proper cleaning services. You should clean and polish it regularly. Menage Total suggests you pay particular attention towards your asset. Wipe off the dust from the surfaces, if there are any spills on the counters or tables, remove them from the surface and make it shine as it was a new one.
Office kitchen cleaning
There is a kitchen in an office which is frequently used for cooking, making tea and for other food works. As you use it, it gets dirty and requires cleaning services. There are many objects which you should clean with care, like the tea maker, microwave, dishwasher, countertops, stovetops, refrigerator and many other things. You should clean all these objects carefully remove all the dust and grime buildup from them and make them shine. For this purpose, you can make a solution using white vinegar and baking powder. Apply it on these objects let it sit as it loosens the buildup wipe it off.
Meeting Room Cleaning
All the critical decisions relating to business functions, development, and growth are taken in business meetings. It would be best if you made the meeting room neat, clean, tidy, organized, and peaceful. Arrange the furniture in proper order and remove the dust not only from desks and tables but also from the ceiling, lights fixtures, and from the walls as well. A peaceful meeting area will allow you to focus on your point of discussion rather than on dirty and filthy things over there.
Bathroom Disinfecting Work
Some portions of any building require special attention and need professional cleaning services. The bathroom is one of those portions which demands more than routine cleaning work. It would be best if you cleaned all the objects over there with care. Remove spots from the ceiling, walls, floor, grout and clean scum stains from the corners. There may be grime buildup on the shower that is not easy to clean. You can use white vinegar, baking powder, or alcohol made a solution to remove this buildup. Unclog the drainage, clean the sink and disinfect the toilet.
Toilet Cleaning
Office toilets are used frequently, and there may be a massive amount of mess. Deep clean the toilets the whole bathroom daily. This will remove odour and avoid germination.
Floor and Grout Cleaning
The soapy and scummy water makes the floor slippery and makes dirty spots and stains there on the level. These spots are not easy to remove. Menage Total suggests you use baking powder, lemon juice, and vinegar to deal with these spots. Make a solution and sprinkle it on the area where these spots are. Let the solution sit for half an hour after then rub it with force and remove them. There may be spots and grout. The grout gets pale or sometimes black over time. This solution is beneficial for these types of places.
Encourage Employees to Play Their Role in Cleaning Office
You should encourage the employees and ask them to play their role in office cleaning as it will uplift their morals. They will help you in developing a peaceful and an ideal working environment. They can clean their tables, arrange their work, avoid spreading trash around. All these things will help to maintain sanitation conditions better.
These are the critical 15 office cleaning tips and tricks which will help you in cleaning your office professionally.