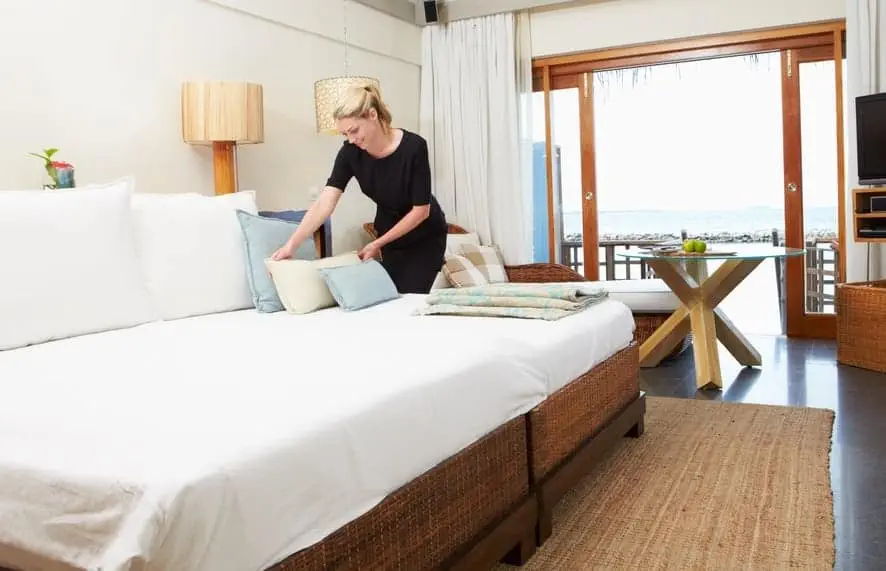 Most of the people chill out at the weekend they hang out with their friends and love ones. Some think about cleaning their house and apartment. Sometimes its a headache, if you do it with proper planning and an organized manner. You will see it's fun to do this. If you want to clean your bedroom then Menage Total helps you out. We tell some Bedroom cleaning tips Montreal which will make it easy to clean and organize your bedroom.
Bedroom cleaning tips include these tasks;
Upholstered bed
Insert duvet
Sidetable surface cleaning
Ceiling, walls, and floor cleaning
Vacuum the whole bedroom
These Bedroom cleaning tips Montreal will help you to clean it easily;
Upholstered bed
People mostly curious about it, they want to have an upholstery which looks more beautiful and comfortable. Menage total suggests using such upholstery for your bed which is quite comfortable. You can use polyester, velvet chenille upholstery for your bed.
Insert duvet
Duvet is important in making a bed. You should use duvet according to the weather. Feather, velvet, and wool duvet is good in cold weather. On the contrary, you will use cotton or a lightweight duvet in warm weather.
Sidetable surface cleaning
You should remove all the clutter from the bedside table surface. It will give a neat and clean look in your bedroom. If there is clutter scattered all around in your bedroom it will look messy. Organize all things in their proper place.
If there is dust anywhere in your bedroom it will give an awkward look. You should do a detailed, thorough, and deep cleaning of your bedroom. You can use soft bristles brush to clean the ceiling, walls, and floor of your bedroom.
Vacuum the whole bedroom
Vacuuming is important in dust removing. If you want to keep your bedroom neat, clean, and tidy you should do vacuum on a regular basis. It will abstain the dust gathering on the floor, carpet, and corners.
Summary
Service Type
Professional Cleaning Services Montreal
Provider Name
Hany Elreggal
,
3583 Rue Ignace
,
laval
,
Quebec
-
H7P 3R4
,
Telephone No.514-654-4988
Area
3583 Rue Ignace, Laval, QC H7P 3R4, Canada
Description
Menage Total providing cleaning services to our clients. It's the best Cleaning Company in Canada. It is operationally in working in major cities like Montreal, Laval, and Longueuil and other parts of the country as well. You can simply contact us to get our cleaning service.