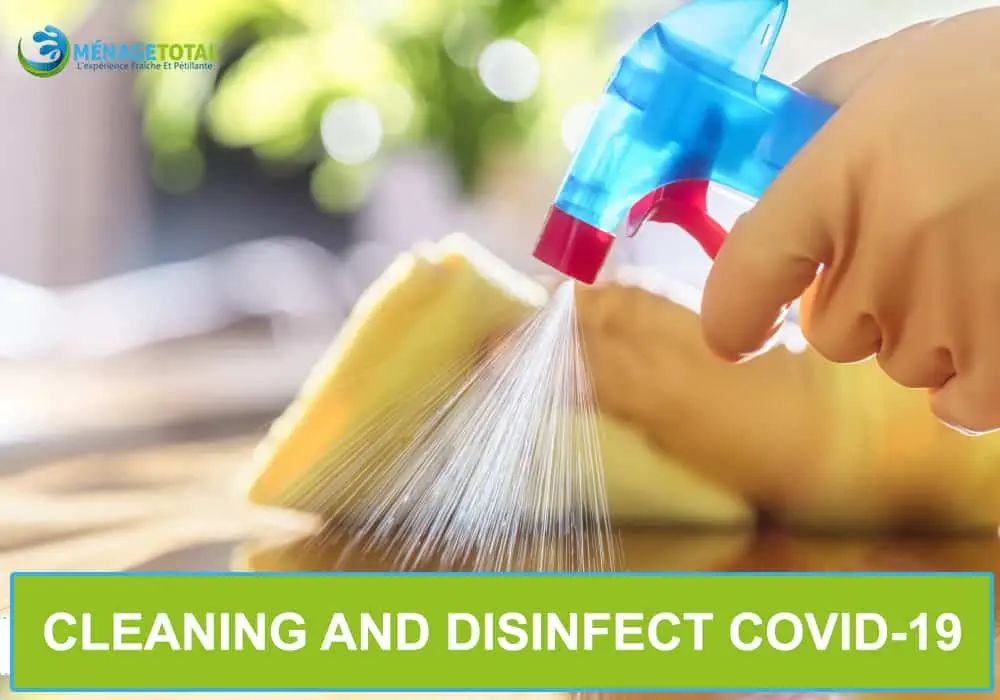 Human lives are the most worthy thing on this planet. Everything other than experience can come back again like wealth, assets, and other material things. Therefore, we should take good care of life not only our but the people around us. During the period of the pandemic, millions of people have lost their lives. Still, there is no vaccine or medicine for this virus. People can do nothing except to adopt precautions. Cleanliness is one of the essential safeguards against COVID-19. In Canada, there are many cases of this virus so far and still increasing day by day in Montreal, Laval, North Shore, Longueuil, South Shore, Quebec, Lévis, Trois-Rivières, Gatineau, Ottawa or surrounding areas. Menage Total is providing you Disinfect COVID-19 cleaning services. Our cleaning services help reduce the growth of this virus.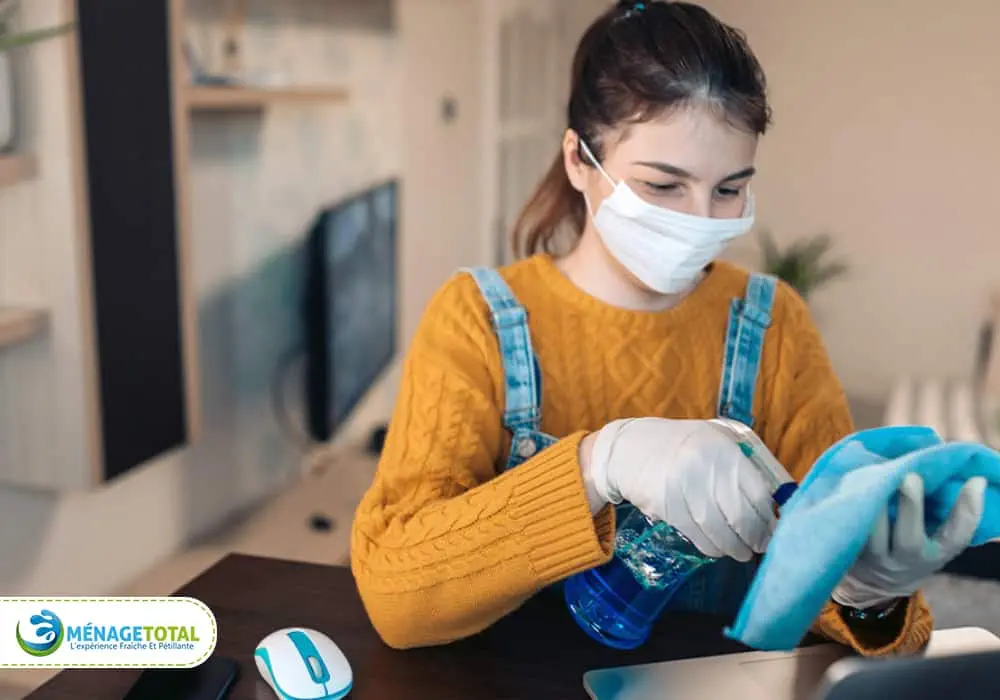 Cleaning products that kill germs, bacteria, dirt, and impurities from surfaces by using any soap, detergent and hot water. Cleaning does not kill germs entirely, but when you remove them, it reduces their numbers and the chances of spreading infection.
The govt of Canada has issued a list of products which help to clean all types of surfaces. Especially those who are positively touched and used frequently. Menage Total has all those cleaning products recommended by the Government of Canada. No matter what type of place you want to get clean. Our maids cleaners disinfect coronavirus not only from residential homes but also from commercial businesses. In commercial offices, there are so many objects and things people use them frequently. Studies have shown that coronavirus can live alive on different items for hours and sometimes for a few days. Therefore, Menage Total suggest you hire our Disinfect COVID-19 cleaning services in Montreal, Laval, North Shore, Longueuil, South Shore, Quebec, Lévis, Trois-Rivières, Gatineau, Ottawa or surrounding areas.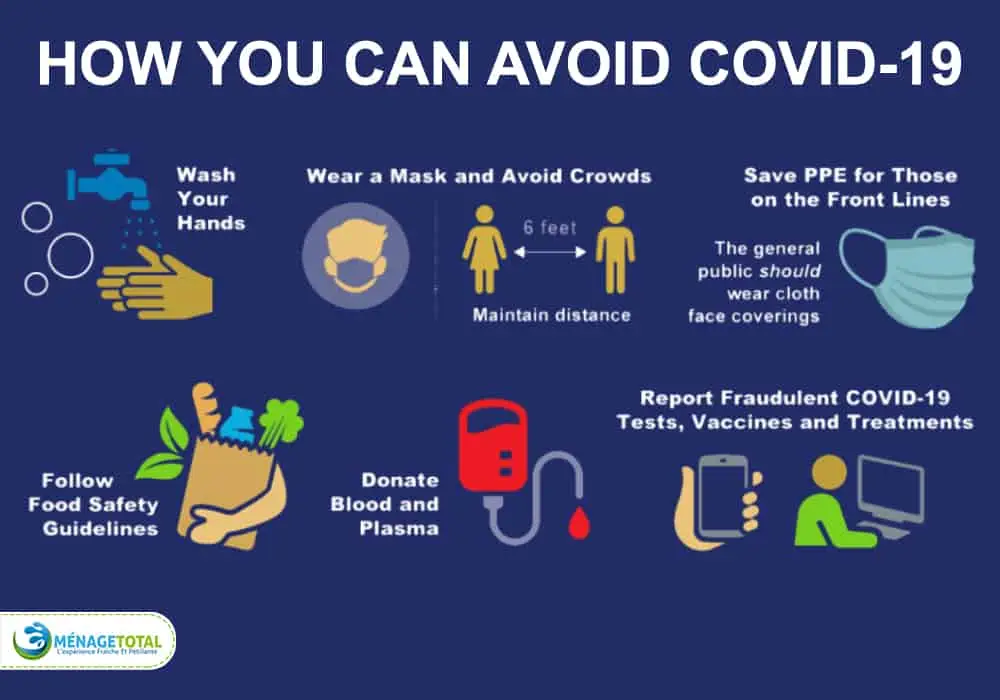 There are several protectives precautions against coronavirus, but here thorough the platform of Menage Total, we will tell you about the importance of cleanliness. If you keep your surrounding and living place neat, clean, and hygienic, then the risk of spreading coronavirus reduces. There are following crucial things you should do and adopt.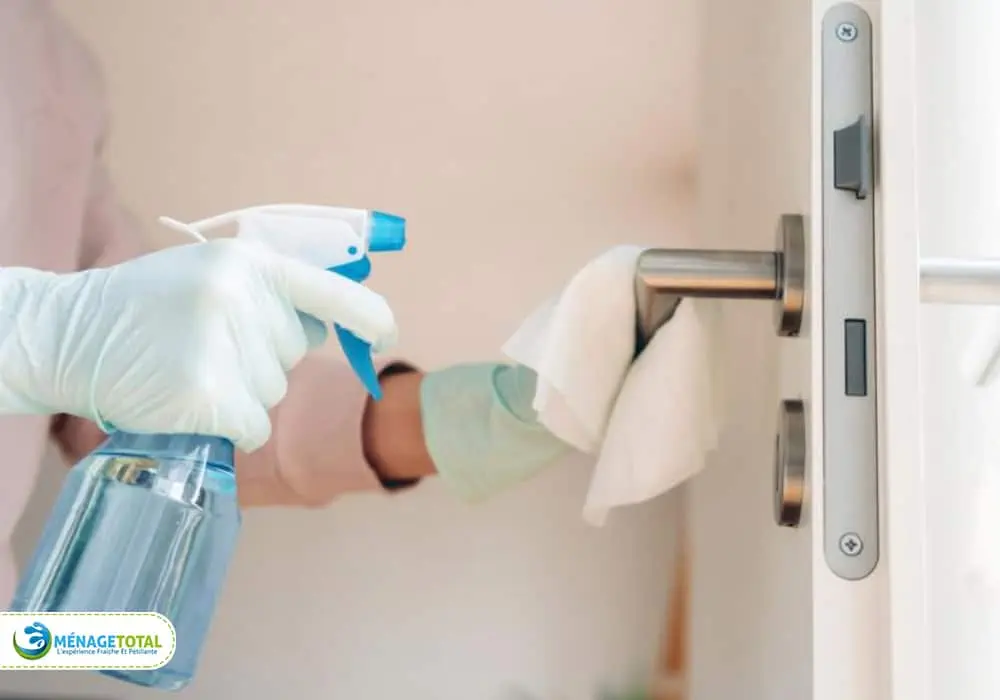 The best thing you can do is to keep your environment and surrounding neat and clean. Menage Total helps you in this regard and provide you with the best residential and commercial cleaning services. Our struggle against the virus is that we are offering our customers the best quality Disinfect COVID-19 cleaning services.
You should know it that cleaning and disinfecting are two very different jobs. Menage Total suggests you all do a bit of both position, even if nobody in your home is infected with this virus.
Our maids cleaners remove any containment form all types of surfaces form your house, home, apartment, condo, flat or office.
When you hire Disinfect COVID-19 services, we kill pathogens.
Menage Total suggests you do cleaning and disinfecting daily if anything or anyone has entered or exited your living area.
Transmission from person-to-person is a significant risk than information via different surfaces, that's why we suggest making sure the cleaning and disinfection of high-touch surfaces in our homes or offices. At least a single time in a day just to be safe, supposing we have had to contact the outer world in some way, either a person going out and returning, or goods coming in.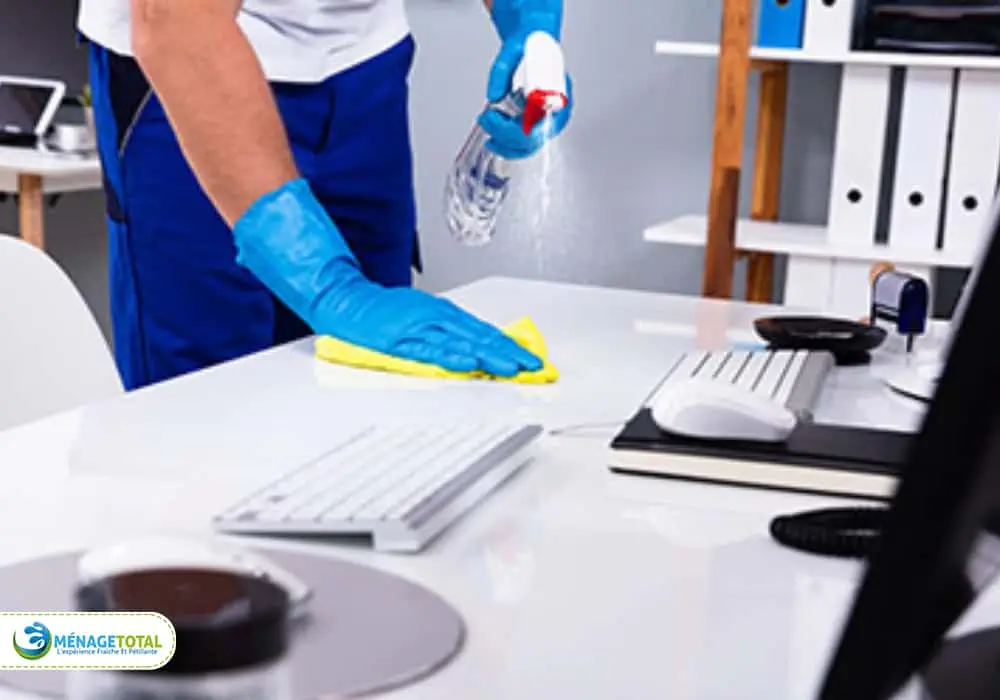 Researchers have shown that the virus can live alive on surfaces such as cardboard for 24 hours or more, but on plastic or stainless steel objects the coronavirus can live up to two or three days. Furthermore, it can affect any person to come in contact with these objects. Therefore, Menage Total suggests cleaning and disinfecting high-touch surfaces is a vital task to do, and we are offering you the best Disinfect COVID-19 services in Montreal, Laval, and Longueuil. We make sure that there is no place where we have not applied the disinfecting product. First, we clean all the objects in your space after then, we disinfect.
Removing dust from table surfaces

Wipe off the dirt from hard dining chairs, seat, back, and arms.

Thoroughly clean the kitchen counters.

Wipe down the faucets and faucet knobs

Wash and clean toilets (seat and handle)

Carefully clean light switches.

Remove fingerprints from the TV remote controls, and

Clean game controllers
These are the cleaning tasks we perform to wipe off any dirt accumulation from different surfaces. Afterwards, we disinfect these surfaces.
First, wipe off all the surfaces, removing any dust accumulation and contaminants, or debris. Our professional cleaning staff uses soapy water to wipe them off or apply a cleaning spray. We use cotton cloth or hand towel to wipe the surfaces. Then we apply a surface disinfectant. The quick and easy way to do this is with disinfecting wipes spray.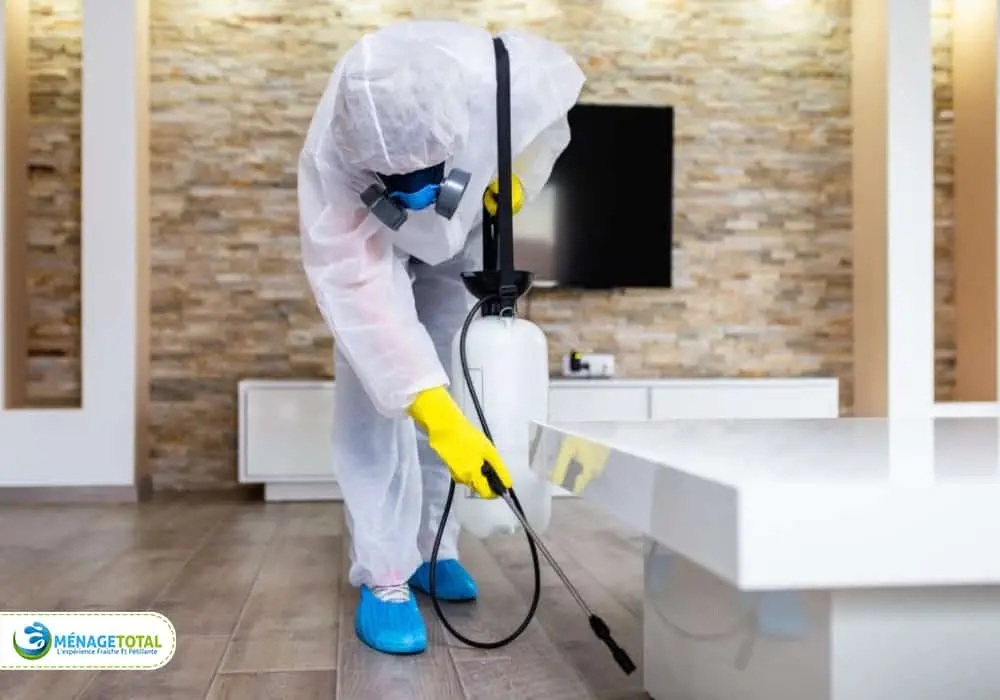 As mentioned earlier, coronavirus can live on different surfaces for hours or a few days. Therefore, floor disinfection is crucial to avoid spreading this virus. Menage Total is well known for this service. Our housekeepers are providing floor cleaning services in Montreal, Laval, and Longueuil for the last ten long years. And now during these days of the pandemic, we are committed to providing our customers with the best Disinfec COVID-19 services.
Menage Total uses only those cleaning products which government of Canada has approved. We make a cleaning solution using these cleaning products and apply them on the floor surface to kill the virus.
First of all, our cleaners apply damp mopping on your floor. The cleaning solution remains the same. After completing the mopping, they wash the floor with care. We make sure that there is no dust spot or containment is on the floor.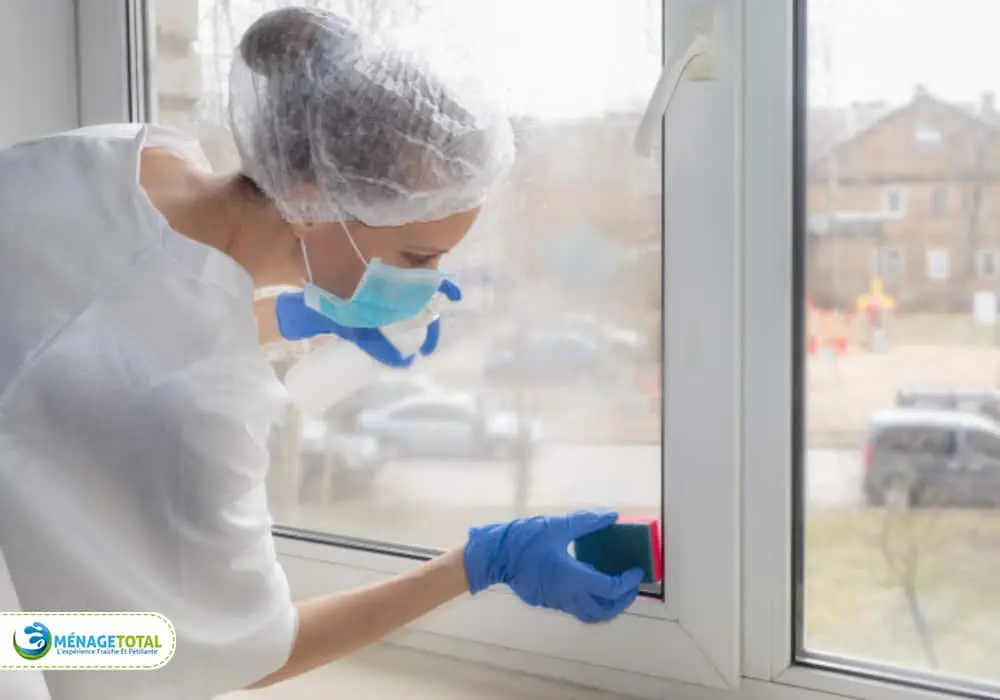 While we clean all the objects in your place, how can we ignore the windows? Our professional cleaners disinfect the windows as well. We apply the soapy water and the chemical that kills the coronavirus. Before washing the windows, we make sure that there is no dust accumulation on the frames and sills. After then, we clean them thoroughly.
These are some essential cleaning services which we are offering you throughout Montreal, Laval, North Shore, Longueuil, North Shore, Saint-Laurent, Greenfield Park, West Island, Dorval, Mont Royal, Blainville, Brossard, St-Hubert, Boucherville, Pointe-aux-Trembles, Rivière des Prairies, Outremont, Westmount, Vieux-Montréal, Terrebonne, Île-des-Sœurs, Repentigny, Saint-Hubert, Gatineau, Ottawa, Outaouais, Saint Sauveur, Hampstead, Ville-Marie, Sud-Ouest, Verdun, Rosemont-la-Petite-Patrie, Mercier, Hochelaga-Maisonneuve, Villeray, Saint-Michel, Parc extension, Ahuntsic, Cartierville, Anjou, Montréal-Nord, St-Léonard, Vimont, Auteuil, Saint-François, Duvernay, Sainte-Dorothée, Fabreville, Chomedey, Renaud, Sainte-Rose, Beaconsfield, Île Perrot, Senneville, Ste-Anne-de-Bellevue, Kirkland, l'Île Bizard, Pierrefonds-Roxboro, Baie d'urfé, Montréal-Est, Dollard-Des-Ormeaux, Pointe-Claire, Lachine, Ville Lasalle, Centre-ville, Côte St-Luc, Côte-des-Neiges, Rosemère, Quebec, Sainte-Foy – Sillery, Beauport, Haute Saint-Charles, Shawinigan, St-Nicolas, Lévis, Trois-Rivières, Bécancour , Saint-Maurice, Nicolet, Notre-Dame-du-Mont-Carmel, Saint-Célestin, Grand-Saint-Esprit, Champlain, Saint-Étienne-des-Grès, Saint-Luc-de-Vincennes, Sainte-Catherine, Yamachiche, Shawinigan, Louiseville, Daveluyville, Pierreville, Maskinongé, Notre-Dame-du-Bon-Conseil, Saint-Tite, Drummondville and surrounding areas. You can hire our cleaning services anytime you want.
For hire cleaning and disinfecting services just pull you phone and call now on (514)-654-4988 or fill our form to order online
We also provide painting services and home renovation and remodelling services in Montreal, Laval, Longueuil, North Shore, South Shore, Quebec and suburb areas.
Summary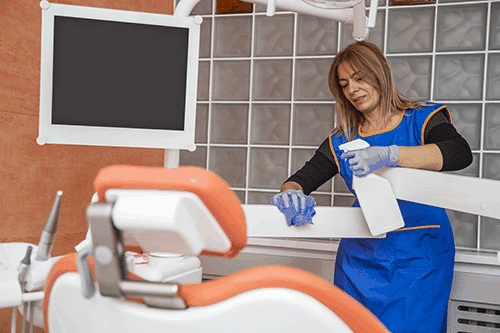 Article Name
Cleaning And Disinfect COVID-19
Description
Menage Total is providing you Disinfect COVID-19 cleaning services. Our cleaning services help reduce the growth of this virus.
Author
Publisher Name
Publisher Logo