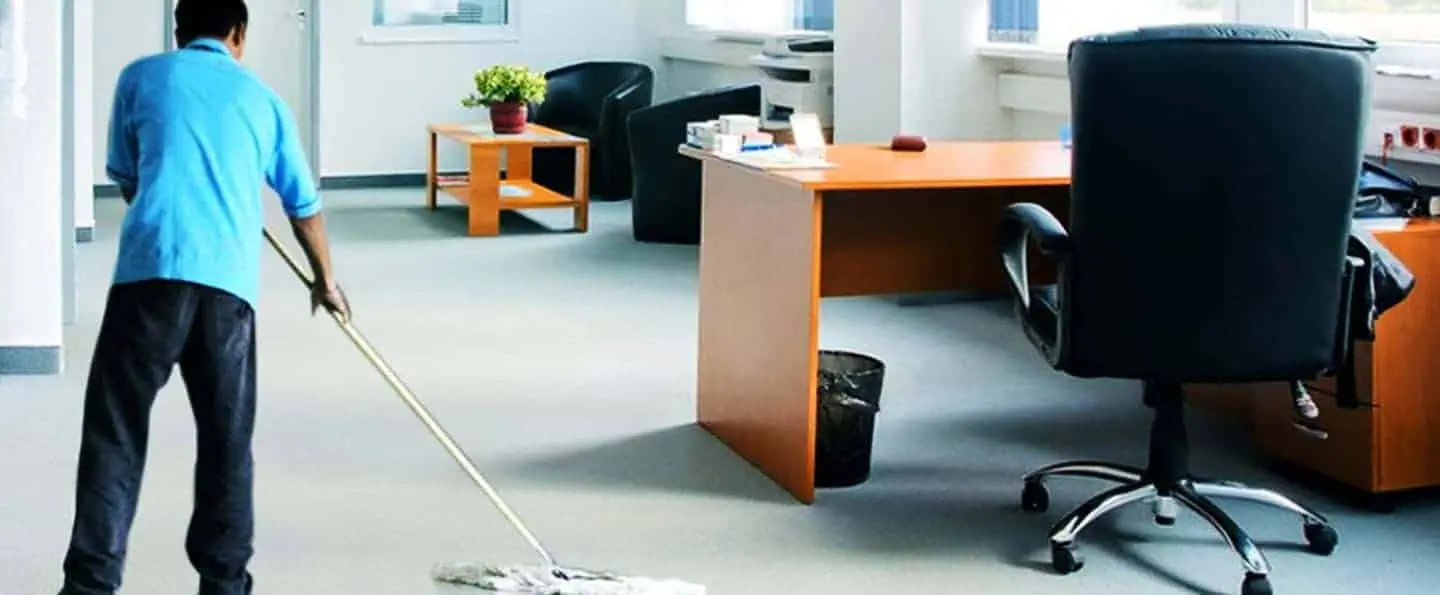 Commercial cleaning services
Studies show that workplace tidiness plays a vital role in employee productivity. Workplace desks contain more than 400 times the amount of germs as a washroom toilet, germs that contribute to Canadian workers taking an average of seven sick days per year. Surely That number can be decreased by implementing a perfect office cleaning and janitorial service program that prevents germs from spreading.
Menage Total has been cleaning commercial buildings since 2010 and some of the cleaning services include:
Workplace Floorcare
Workplace Trash disposal
High-dusting and dirt proofing of furniture
Bathroom cleaning
Breakroom cleaning
You strive to demonstrate the most value in your building. Menage Total team can help you and deliver beyond expectations. Menage Total commercial cleaning programs are designed in such manner to fit with every individual need of each client and/or tenant. No matter what your requirements are maybe, Menage Total can deliver a flawless Commercial cleaning service that provides consistent, quality cleaning that enhances the value of your workplace building.
Menage total has experts able to provide detailed commercial cleaning services for their clients and valued customers, their commercial cleaning service designed in such manner that your valuable and workplace property will come to it's the best glance and look best all year round. Menage total has different commercial cleaning packages and frequencies depending upon clients requirement and preferences, no matter your need depends on a regular basis, weekly basis, every three weeks, monthly or occasionally or just one time cleans.
Following are some commercial  cleaning services that Menage Total provides:
Office and building cleaning
Hotel/resort housekeeping
Healthcare services (hospital, clinics cleaning)
Manufacturing Facility cleaning
Banks cleaning
Stadium or event area cleaning
Government build cleaning
Retail office cleaning
Restaurant cleaning
School/universities cleaning
Team Menage Total completely understand their clients have very distinctive standards and that's why they offer a perfect Commercial cleaning service that is summarized in such manner that it suits every individual requirement.
Menage total has a team of cleaners and janitors are best in business, full-time professional cleaners whom you can count on totally reliable. Fully insured. They are fully equipped with the latest cleaning equipment and professional cleaning products ensuring a perfect package full of hygiene clean every time they are at your workplace.
No matter what sort of commercial cleaning services you are in need off, Menage Total will tailor a service to fit according to their client needs and budget. If you are looking for a professional commercial cleaning service which can provide you the consistently high standard state of the art quality cleaning to meet your own very high standards. So absolutely no doubt you are reading the perfect article and  Menage Total is the best choice for your workplace cleaning service.
Menage Total Office Cleaning
When you want to clean the floor of your workplace, keep rubbish at bay and work desks clean then look to Menage total is a just right option for you. Menage Total provides full commercial cleaning services from the highly trained cleaning staff.
Commercial Window Cleaning
commercial window cleaning is one task which needs proper trained staff and equipment otherwise taking a risk on it can cause many sorts of casualties and accidents Menage Total to provide Commercial window Cleaning service for both large and small commercial workplaces. If you are in need of a professional commercial window cleaning for your dirty workplace windows so contact Menage total as soon as possible they are best in business, Menage Total can make sure your building is always sparkling whatever the weather.
Menage Total Janitorial Services
Janitorial services resolve your cleaning and facilities management issues in one fell swoop. Menage Total commercial Cleaning Services guaranteed highly trained janitors at pocket-friendly rates with one dedicated manager for your business.