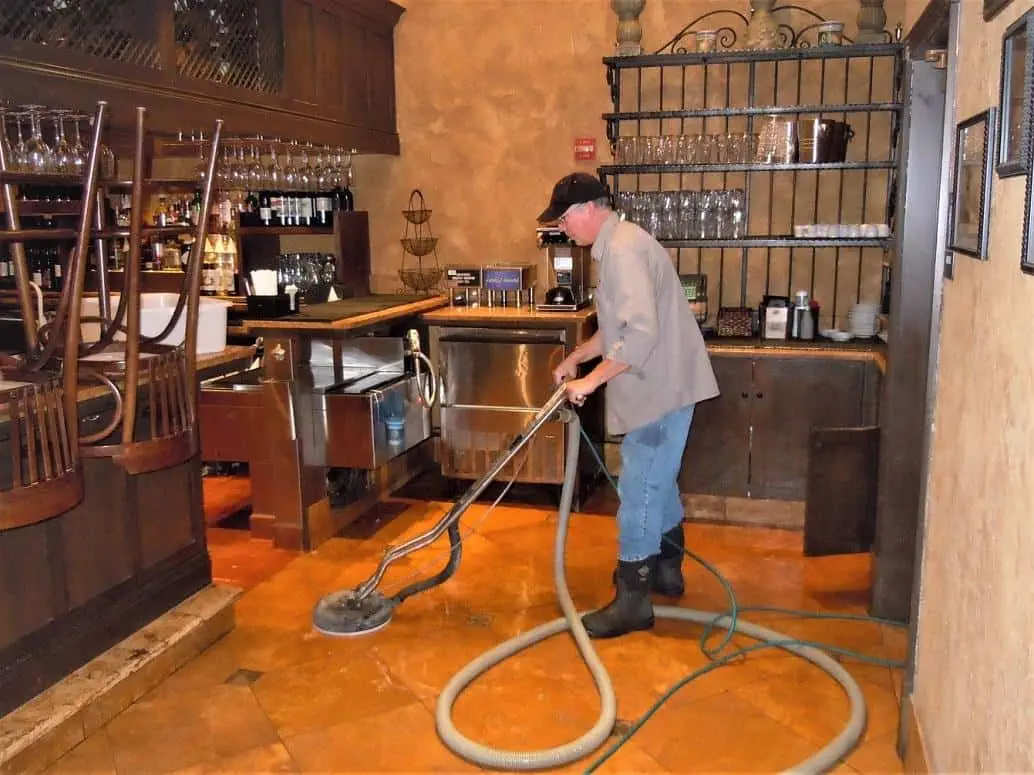 You don't want to repair services for your hard floor on a regular basis. To avoid this headache you should hire Commercial hard floor cleaning services. Tile, vinyl, and hardwood floors are less likely to retain dust, dirt, pollen and other allergens that are trafficked into your office. You should not ignore them these need deep cleaning services as well. You should apply daily dusting and mop on them. These types of floor can lose their shine over time. They need thorough and complete cleaning services. If you are looking for deep cleaning services for your office floor you should not worry about it. Just contact the Menage Total and let it know about your needs. We provide the best commercial hard floor cleaning services.
Routine sweeping and mopping will help to abstain from the dirt accumulation on the floor surfaces. A number of shoe feet traffic come on its surface and dust accumulate there. Sometimes it creates stubborn and hard spots on the surface. Daily cleaning is not enough to increase the lifespan of your hard floor. You should aid it with commercial hard floor cleaning. Menage total performs these tasks when we perform Commercial hard floor cleaning;
Stripping, sealing, and refinishing tile floors
Recoating and scrubbing the hard floor
Deep grout cleanings
Concrete floor cleaning
Repairing the damaged paints
Menage total performs all these tasks while dealing with Commercial hard floor cleaning;
Stripping, sealing, and refinishing tile floor
There are different types of hard floors if you have a tile floor and it is looking dull. Its shine has gone and you want to bring it back. Stripping is important to bring the shine of the floor back. If there are crevices on the hard floor surface. Our cleaning staff fills them and rubs them otherwise it looks strange. Our staff removes old wax, debris, and soil from the floor.
Recoating and scrubbing the hard floor
Scrubbing and recoating are important to remove any dirt and dust embedded on the floor. It is a useful and timing saving technique. Recoating and scrubbing are less labor intensive and will save you time and money. Our cleaning staff is professionally trained to perform recoating and scrubbing on the hard floor.
Deep grout cleaning
There may be crevices or small gaps between walls and floors. People use some kind of matter like wax to fill them. It creates spots. These are stubborn and hard spots to remove. Menage Total deals with these spots and stains efficiently. We clean scrub it with a nylon brush and rinse it with warm water.
Concrete floor cleaning
Menage total uses castile soap, liquid dish detergent, and mild floor cleaners. We make a solution, apply to the floor with a wet mop and then rinse with a mop dipped in clean water. To make your concrete floors resistant to future stains, apply a concrete sealant.
Repairing the damaged paint
There may be damaged paint on the floor it gives an awkward look. We repair it according to the previous one. Our staff cleans the paint spots and removes stains from the floor surface.