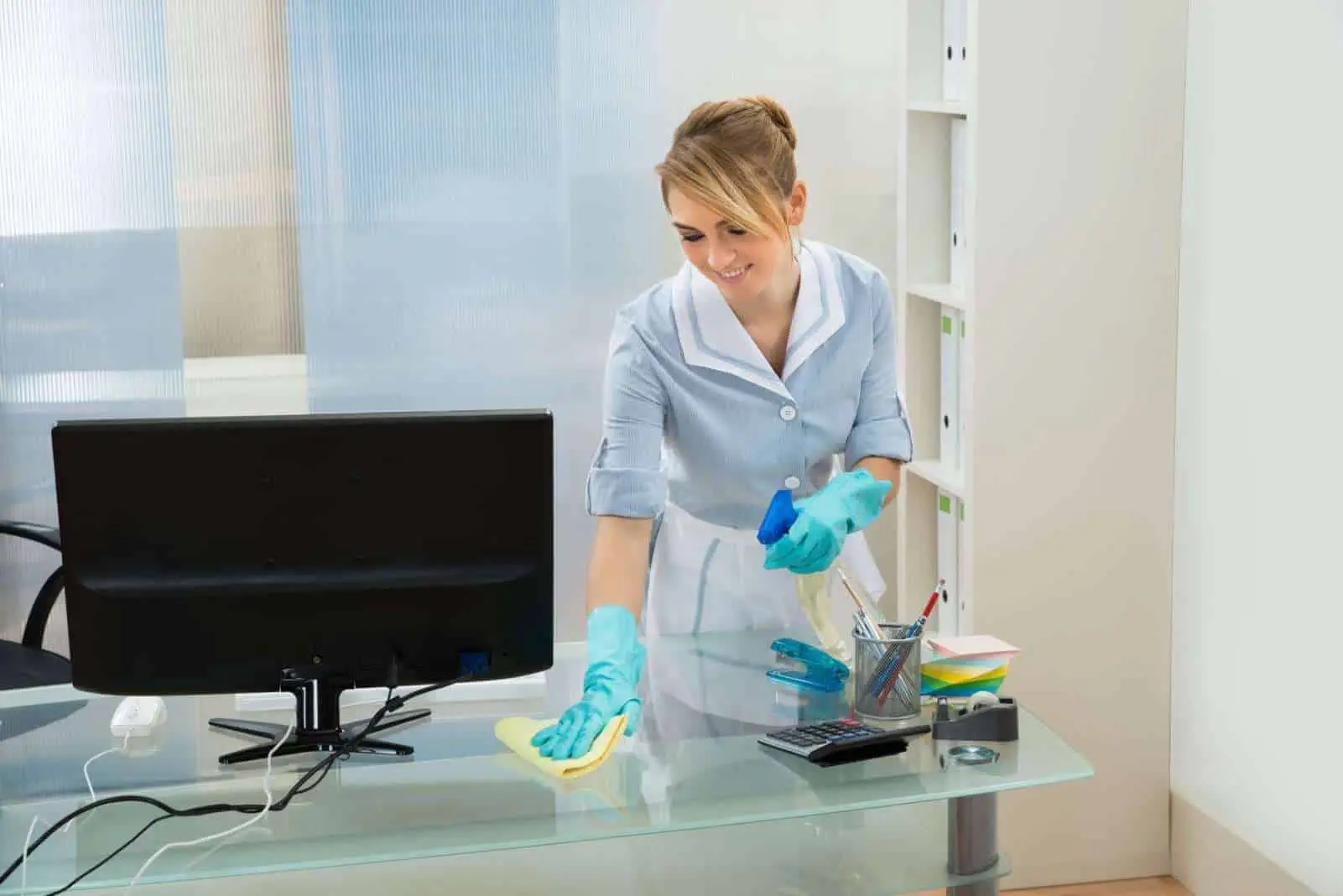 An office is a place where people spend most of their time. A dirty and messy workplace gives an awkward look. It gives an impression of unprofessionalism. On the other hand, everyone wants to work in a neat, clean, peaceful working environment. Cleaning services are inevitable for offices. Menage Total is specialized in Office Cleaning Lady Montreal. We have a trained lady cleaning staff which performs office cleaning services in Montreal. Our cleaning staff starts working from a detailed dusting and ends with a detailed cleaning of the whole office.
Office Cleaning Lady Montreal works as;
They clean the office floor
Office windows
Partition walls
Computer tables
Building walls
Cabinets; and
The ceiling of the office
Menage Total gets these works done through its lady staff. They perform all of these cleaning services with full of care and intention.
Our cleaning staff starts working on floor cleaning. They do a detailed dusting of the floor to remove all the dust from the surface. After then they do vacuuming to clean any dirt left behind after doing the dusting. When they have done with dusting and vacuuming they start washing the floor. Menage total uses organic cleaning products for floor cleaning.
Office Windows
Our cleaning staff cleans your office windows. They clean the window mirrors and remove all the stains and spots from mirrors. They sprinkle the solution of water and health-friendly detergents on window mirrors. Our cleaning staff rub it with care and clean all the stains, spots, and dust from them.
Partition Walls
The Partition walls which make separate one cabinet from other, need cleaning as well. Our cleaning staff cleans these partition walls with care and attention. They clean all the dirt and dust from these walls. Sprinkle the solution on walls and remove all the spots and stains.
Computer Tables
Office Cleaning Lady Montreal cleans the computer tables you have in your offices. Our cleaning staff removes all the papers and objects from the table. They do the dusting of the whole table, under the table area and clean the computer devices like keyboard, monitor, and printer, etc.
Every office has a kitchen and that appeal for cleaning services a lot. Menage Total cleans your kitchen with full of care. Our cleaning staff cleans the kitchen floor, counter tops, stove tops, remove food crumbs from walls and floor. We clean all the spots and stains from kitchen walls and floor as well.
Summary
Service Type
Professional Cleaning Services Montreal
Provider Name
Hany Elreggal
,
3583 Rue Ignace
,
laval
,
Quebec
-
H7P 3R4
,
Telephone No.514-654-4988
Area
3583 Rue Ignace, Laval, QC H7P 3R4, Canada
Description
Menage Total providing cleaning services to our clients. It's the best Cleaning Company in Canada. It is operationally in working in major cities like Montreal, Laval, and Longueuil and other parts of the country as well. You can simply contact us to get our cleaning service.