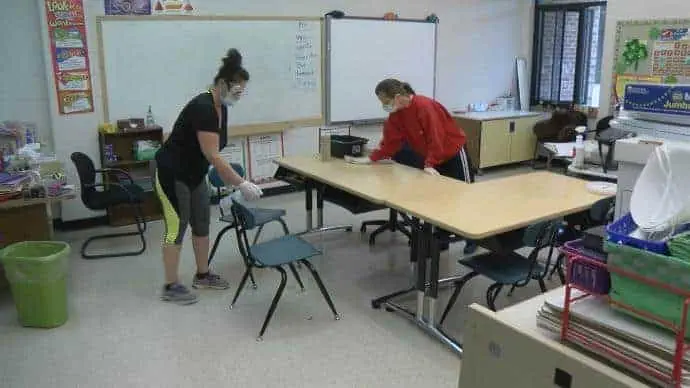 A school is a place where children and faculty spends a lot of their time. They interact with each other. Children play and study there. Cleanliness is crucial for schools. A healthy and clean school induce the students and faculty to work hard. While an uncleaned and messy school is not good for both students and teachers as well. If you want to sanitize your school you should contact the menage total. We tell you some important School Cleaning Tips Montreal. You can easily keep your school neat and clean. The school cleaning tips Montreal are;
Clean the classrooms
Regular floor cleaning
Keep the play area clean
Furniture and fixture cleaning
School offices cleaning
You can clean your school with the help of these School Cleaning Tips Montreal;
Clean the classrooms
classrooms cleaning is crucial and inevitable. You should keep all the classrooms sanitized and clean. Do a detailed dusting of the ceilings. Remove the dust from the walls. If there is any damaged pain then repair it carefully. Clean the fixture in your classrooms. If there are any dust spots on the ceiling and walls you should clean them.
A huge shoe feet traffic come on the floor and the dust gathers on it. You should clean the floor on a regular basis. Do a detailed dusting of all the floors. Remove all the dust from them. After completing the dusting you should do vacuum them. It will clean them and will remove all the dust from them. Then wash them thoroughly and remove all the dust spots from the surface of the floors.
keep the play area clean
Children play in a particular area and you should keep that area neat and clean. They play and interact with each other. You should make sure that place is not a cause of spreading germs. Use health-friendly and organic cleaning products for cleaning the play area.
Furniture and fixture cleaning
Menage Total suggests cleaning the furniture and fixture is much important. Furniture is a long term investment and it needs cleaning and maintenance services on a regular basis. You should keep the furniture clean. Remove the dust from them clean the upholstery and keep it germs protected.
The offices like accounts office, meeting office, and principal office needs cleaning services. You should keep them organized and clean. Remove all the dust and dirt from them. A neat and clean office gives an impression of professionalism while an unclean and unorganized offices don't convey a good message.
Summary
Service Type
Professional Cleaning Services Montreal
Provider Name
Hany Elreggal
,
3583 Rue Ignace
,
laval
,
Quebec
-
H7P 3R4
,
Telephone No.514-654-4988
Area
3583 Rue Ignace, Laval, QC H7P 3R4, Canada
Description
Menage Total providing cleaning services to our clients. It's the best Cleaning Company in Canada. It is operationally in working in major cities like Montreal, Laval, and Longueuil and other parts of the country as well. You can simply contact us to get our cleaning service.