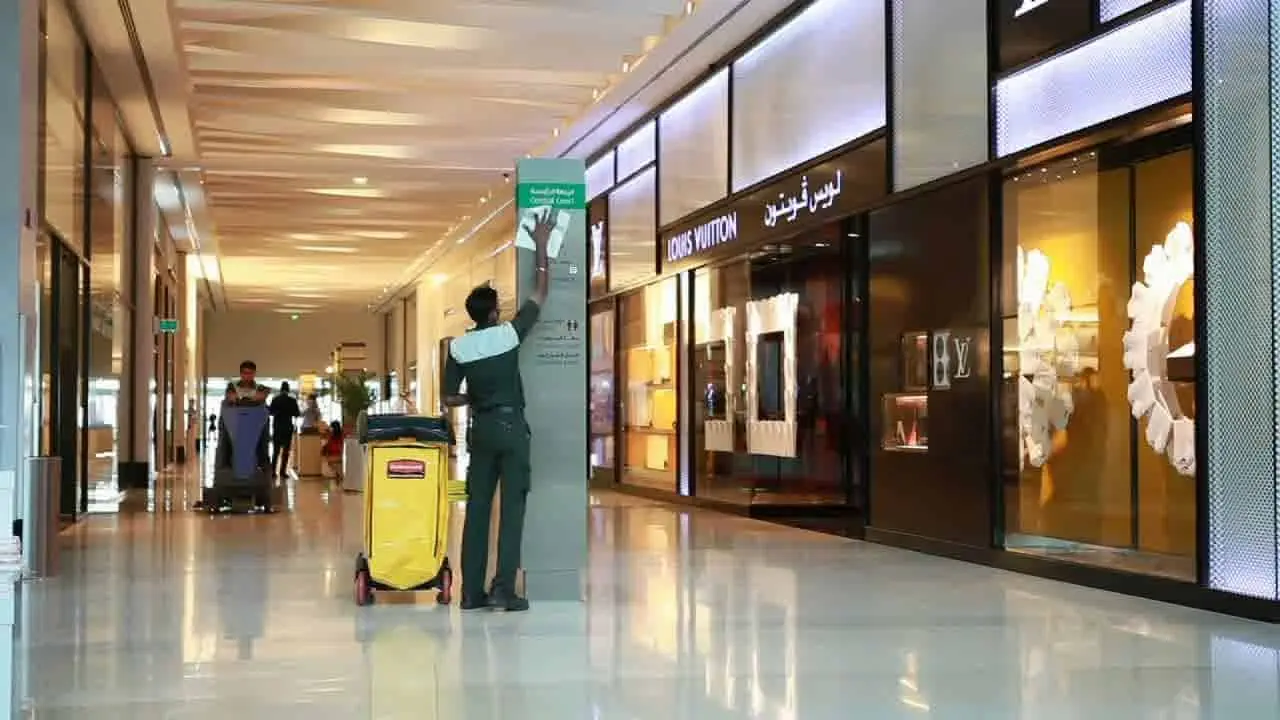 Shopping malls are one of the public places where a number of people visit on a daily basis. They come here and interact with other people. They visit and leave behind a huge amount of dirt and dust. You want to keep your shopping mall neat, clean, and sanitized. If you are in need of professional cleaning services you should contact us. Menage Total is the best cleaning company that provides you the best Shopping Malls Cleaning Services Montreal. We provide our services in Montreal, Laval, and Longueuil.
Menage total performs these tasks in Shopping Malls Cleaning Services Montreal;
We perform these important tasks in Shopping Malls Cleaning Services Montreal.
In shopping malls, a large number of people come and do shopping there. A number of shoe feet traffic comes on the floor surface. It gets dirty if it remains uncleaned there will be stubborn spots and stains on it. It needs regular and ongoing cleaning services. Menage total deals with these tasks in floor cleaning;
Our cleaning staff does a detailed dusting of the floor.
They clean it thoroughly and mop it.
If there are soil spots on the floor they rub and remove it.
Our cleaning staff performs floor washing without creating any uneasiness for you.
There may be a need for cleaning services for walls and mirrors of the shopping mall. Our cleaning staff cleans the walls very carefully. They remove all the spots from there and clean them thoroughly. The mirrors need cleaning services as well. Our cleaning staff removes the spots and dust from the mirrors.
Furniture is a long term asset you will use it for a number of years. You don't want to replace it very soon. It requires continuous cleaning and maintenance services. Menage total provides you furniture cleaning services. Our cleaning staff cleans the furniture and upholstery you have in your shopping mall.
Menage total pays special attention to these areas. These areas need detailed and thorough cleaning services. Our cleaning staff cleans all the mess from the bathroom and removes the odor and smell from there. They clean your kitchen very efficiently, clean the countertops, stovetops, and appliances in your kitchen.
360 cleaning
It means regular cleaning services throughout the whole year. You can't afford to let your shopping mall dirty. Therefore, shopping malls need regular cleaning services to keep them clean and sanitized.
Summary
Service Type
Professional Cleaning Services Montreal
Provider Name
Hany Elreggal
,
3583 Rue Ignace
,
laval
,
Quebec
-
H7P 3R4
,
Telephone No.514-654-4988
Area
3583 Rue Ignace, Laval, QC H7P 3R4, Canada
Description
Menage Total providing cleaning services to our clients. It's the best Cleaning Company in Canada. It is operationally in working in major cities like Montreal, Laval, and Longueuil and other parts of the country as well. You can simply contact us to get our cleaning service.